Touchpoints to Enhance the
Guest Experience & Increase Retention
Retention is a key principle to success. Retention is a direct reflection on the type of experience you and your medi spa or spa team delivers. Are your guests leaving saying, "WOW, that was a great experience!" Or are you just going through the motions and hope they come back? Today, there is no shortage of anything. Consumers have choices and if you don't have great reasons for them to come back, they are gone forever. So, how can you increase retention? By orchestrating a great guest experience — one that is memorable, fulfilling and results-driven.
Join us for this webinar and gain knowledge to enhance your
experience and increase your retention rate.
Recipes For Success

July 10th @ 3 pm EST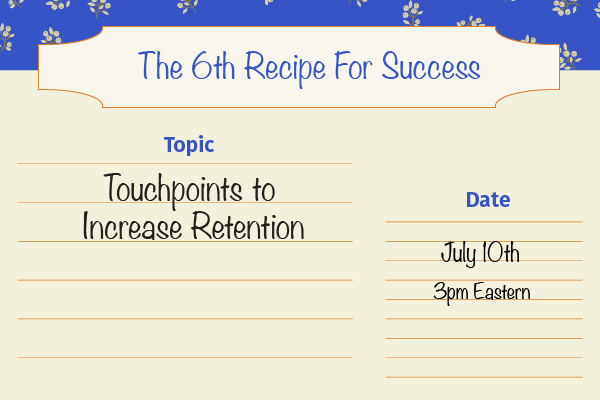 Register Now!
Some of what you will learn: I. The "WOW" Factor vs. the "uh oh" factor
II. Assessing and Creating your TouchPoints

Unique Experience Rituals
USP – Unique Selling Proposition
Retail Product Mix
Merchandising
III. Tracking Retention
This Months Featured CoachMe Expert
---