A Note from Dori
Happy November!

It's that time of the year when sharing, thanking and giving are on the top of everyone's list.  It's a busy time for all of us. Shopping, working, cooking, partying, eating… wow lots of stuff to do!

Speaking of "to do lists", one thing you should have on your list is how to make your business stronger and more profitable. When you have a strong business, you will have more freedom and money to do what you want to do!

We want to take this opportunity to thank all members of the InSPAration Management community for putting your trust in us and allowing us to help you! May this Thanksgiving bring you happiness and peace!

This issue is dedicated to help you plan for success!

Happy Thanksgiving to all from the InSPA team!
---
Featured Article
Discover how to Leap Ahead in 2018! I did a video for you this week where I discussed the 4S's we teach and practice. You should check it out below. Read more→
Bright Ideas!
We invite you to attend a complimentary CoachMe podcast highlighting the upcoming 2018 series. The new series is called Soaring Ahead! If you want Read more→
Dori Recommends
This year is coming to an end soon, read the Dori Recommends and get your hands on a Spa Budget File to help you plan your success for 2018. Don't plan to fail by Read more→
Events Calendar at a Glance
November 7th / 4:00 pm Eastern
CMG Genius Revenue Strategies
Topic: Productivity & Revenue
November 16th / 3:00 pm Eastern
Soaring Ahead – A Free Podcast
Topic: Essential Success Principles
November 13th-15th
Leap Ahead Leadership Seminar
Daytona Beach, Florida
November 28th / 3:00 pm Eastern
CoachMe Expert: Craig Philip
360 Business Videos

Topic: Marketing Your Business With Videos
Featured Article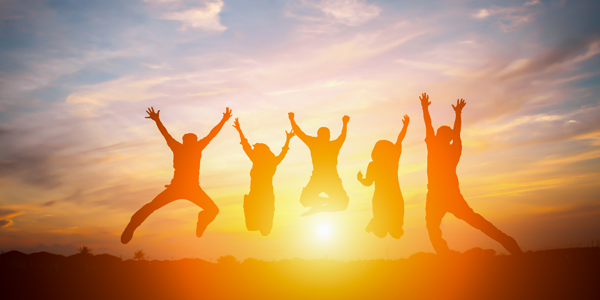 It's Your Time to LEAP!
Have you planned your 2018 success?
I did a video for you this week where I discussed the 4S's we teach and practice. You should check it out below.
1. Spa and Medi Spa Business Structure

Your business STRUCTURE must be solid, one that you can build on and expand. Without good solid structure, your business will tumble sooner or later. Structure is the foundation of your business. It's your concept, your purpose, your team, your guest experience and so on.
2. Your Spa Systems

As a Business Development Professional and a Spa and Medi Spa Consultant, the one thing I see missing often when assessing a new client's business is the lack of systems. You are making a big mistake if you are running your business without systems. Systems provide you with accuracy, consistency and growth. Systems are key ingredients to your success. We teach many Spa and Medi Spa systems, such as the P.R.I.D.E. system to help you upgrade and recommend retail products, the S.A.C.R.E.D. system to perform a customized consultation that will generate thousands of dollars of revenue, the C.L.A.R.I.T.I. hiring system to help you build a strong team and many more…These systems provide you and your spa team a systematic approach to success.
3. Spa Business Strategies

Sometimes people get stuck in the "we've always done it this way". By nature, people dislike change. But without change, your business will stop growing and your business will flat-line. You must continually introduce new business Strategies to keep improving and refining your Medi Spa or Spa business model. Things are continually changing and you need to keep introducing new Strategies to keep growing. Make change a welcoming habit and always implement new Strategies. This practice will give you an edge over the competition and insure your growth!
4. Sustainability

Sustainability represents resiliency over a long period of time – Positioning your business to survive any obstacle and go way beyond. It's having a strong business that keeps innovating, that is socially and environmentally friendly. It's when you provide economic value and contribute to healthy ecosystems and strong communities.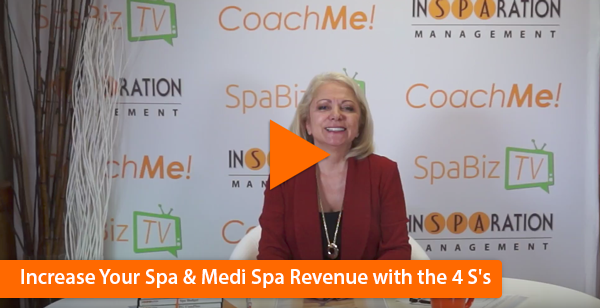 We love the 4s's! We practice them at InSPAration Management as well as teaching them to clients. We have transformed many businesses with them and we can help you! This was a mini overview of the 4 S's. At the Leap Ahead seminar, we cover them A-Z!
To learn more about the 4S's and to receive effective Spa and Medi Spa business model tips, we are offering you a complimentary podcast called "It's Time to Leap"!
Listen and discover great strategies and innovative ways to effectively improve your business.
Join us for the next Leap Ahead seminar and receive a last minute special.
Bright Idea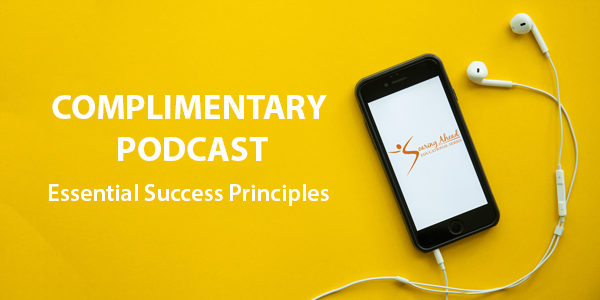 Join us November 16th at 3pm Est!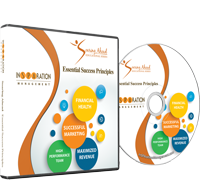 You're invited to attend a complimentary CoachMe podcast called Soaring Ahead highlighting the upcoming 2018 series. If you want to improve your business and make more money you should register now!
For the past two years, we've provided you with monthly CoachMe modules to help you with Sales and Marketing strategies. This is a very popular program so we decided to continue and launch a new series for 2018.
Soaring Ahead! Essential Success Principles

New Series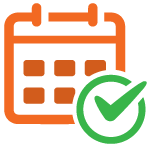 During this podcast, I will give you 4 Strategies that you will be able to implement immediately to help you Soar Ahead!
Mark your calendar and Register now!

November 16th at 3 pm Eastern
Dori Recommends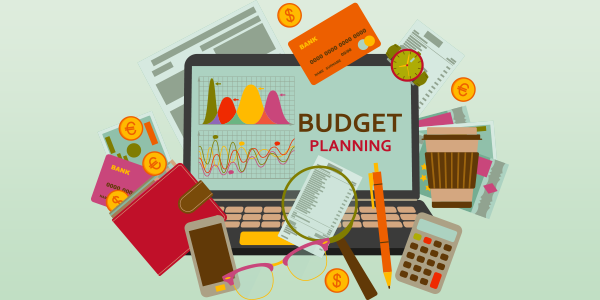 Spa & Medi Spa Budgeting Made Easy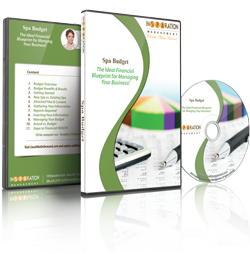 This year is coming to an end soon! To help you improve your financial health, we recommend having a budget for your Spa or Medi Spa. No reason to dread this task!
Purchasing a customizable budget is the ideal financial tool for your business. Simply gather your financial reports and begin entering data into the colored cells of the excel spreadsheet.
Your financial categories and line items are clearly outlined and formatted to self-calculate, providing you with a clear financial picture. This extremely user-friendly spreadsheet takes the headache out of budgeting! 
What You'll Gain
A detailed budget to manage your business effectively
A financial tool you can reuse year after year
A pre-calculated budget template with built-in formulas
Detailed categories for each department, identifying number of guests and revenue by department
Summarized spa financial ratios
Peace of mind knowing you are financially healthy
Regular price $695

Attend the Leap Ahead and get it for free!

Or purchase it for $499

CoachMe Expert Interview
Join us for Marketing Your Business With Video featuring Special Guest Craig Philip of 360 Business Videos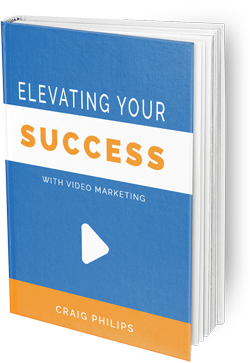 Craig Philip is an industry leading professional dedicated to helping businesses maximize their online presence and business results through Video. With over 30 years of professional production experience including leadership positions with Disney and Warner Brothers, Craig delivers a unique blend of business acumen and production skill to every project.
360 Business Videos is exclusively focused on the Medi Spa, Spa, Health and Wellness industry.
You don't want to miss this opportunity to learn from one the industry's best!
Specials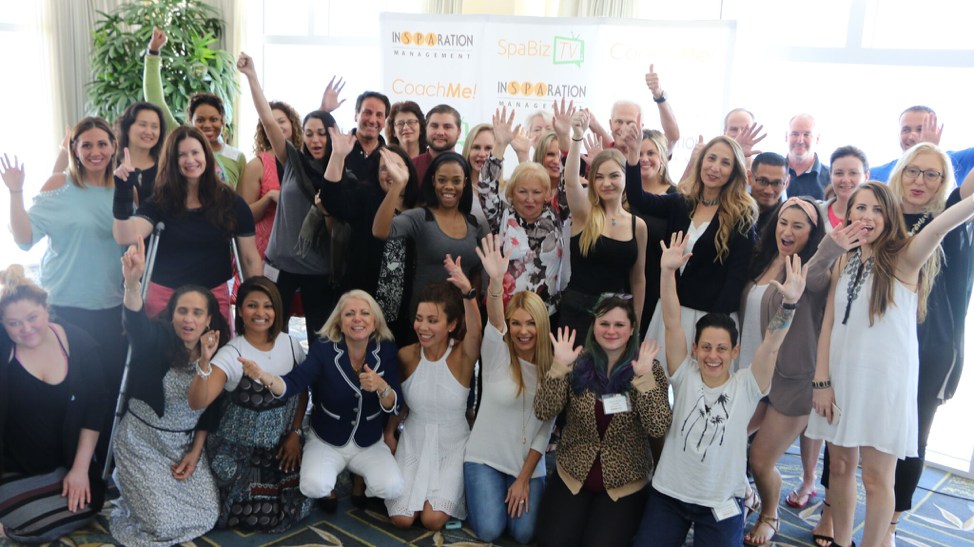 Leap Ahead, Spa & Medi Spa Seminar
Join us November 13-15 and make your business soar!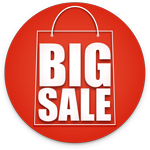 Listen to this audio and gain great strategies to help you Elevate Your Success.
Learn more and reserve your seat today.
Use code "Leap" and receive $500 off!
Spa & Medi Spa Budget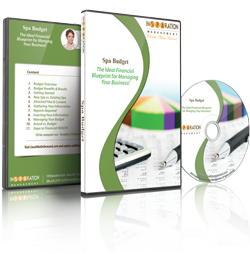 No reason to dread this task! Purchasing a customizable budget is the ideal financial tool for your spa. Simply gather your financial reports and begin entering data into the colored cells of the excel spreadsheet.
Purchase the Budget CD for $499!
Attend the Leap Ahead and get it for free!
Or purchase it for $499